11 September, 2020 (Green, nature, SMC->NBP)
Green, J.K., Seneviratne, S.I., Berg, A.M. et al. Large influence of soil moisture on long-term terrestrial carbon uptake. Nature 565, 476–479 (2019). https://doi.org/10.1038/s41586-018-0848-x
Overview
The authors concluded that soil moisture has substantial effect on long-term net biosphere productivity (NBP, a.k.a. NEE?) using a global satellite product of SIF and TWS (GRACE) and multi-model ensemble from the GLACE-CMIP5 project. They explained that the SMC effect was attributable to non-linear response of NBP to SMC. Also, they emphasized the need for better improvement representations of CO2 fertilization effect in models, as it is a basis of their results.
SMC reduction and water-limited ecosystem
The authors decomposed changes in the total NBP into changes due to:
dNBPSMvar: soil moisture variations from the climatological annual cycle (i.e. seasonal mean)
dNBPtrend: longer-term soil moisture trends (i.e. 30-year running mean)
dNBPothers: CO2 fertilization and temperature effects
error: all other limiting factors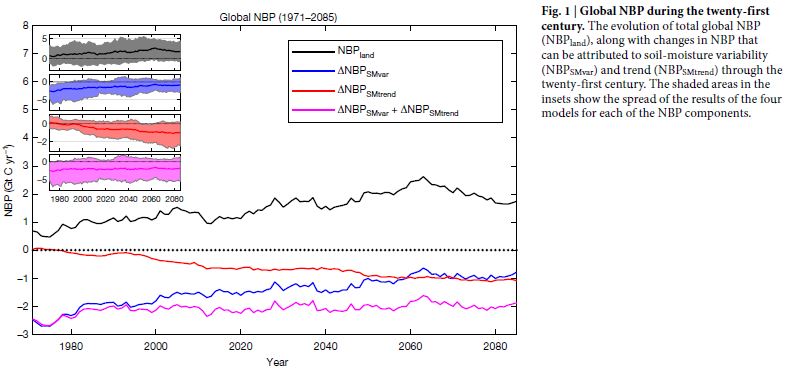 Figure 1:
dNBPSMvar + dNBPtrend (purple) remained negative during the period: SMC reduces NBP.
Nevertheless NBPland increased until it met a peak: dNBPothers has significant effect.

this means that model representations of CO2 fertilization effect is crucially important for the projection.

The contribution of dNBPtrend (dNBPSMvar) gradually increased (decreased).

Once an ecosystem put in a water-limited condition, the intra-annual variability becomes less effective.

ESMs agreed that there is a peak point for the global NBP.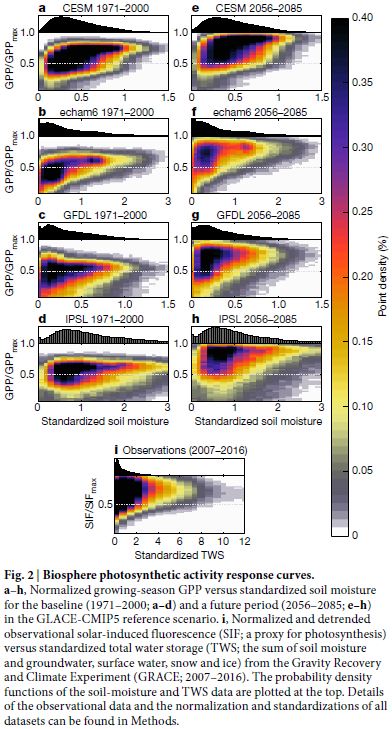 Figure 2:
All ESMs and observations (i) showed that actual GPP exponentially (?) decreases when SMC becomes less than a certain amount (i.e. turning to the water-limited condition).

SMC decreases –> E decreases –> less cooling effect (temperature increases)
SMC decreases –> E decreases –> VPD increases –> stomatal closure –> photosynthesis decreases –> NBP decreases
SMC decreases –> (Ra / GPP) ratio increases + decreased photosynthesis –> NBP decreases
SMC decreases + increased temperature –> more fire occurrences –> NBP decreases

Therefore, it is also important to have realistic representations of vegetation responses to SMC reduction.
Etc
increased temperature lengthens the growing season length in mid- and northern latitude +
reduced cloud coverage increases available radiation in energy-limited regions
= remains as a CO2 sink
Methodology
Three experimental runs: a reference (CTL), ExpA, and ExpB
CTL: CMIP5 historic run + RCP8.5 scenario (SMC and CO2 fertilization are accounted)
ExpA: CTL + mean climatological SMC forcing (seasonal mean SMC) –> remove soil moisture variability
ExpB: CTL + 30-year running mean SMC –> SMC trend
dNBPSMvar = dNBPCTL - ExpB: exclude the effect of long-term SMC trend (?)
dNBPSMtrend = dNBPExpB - ExpA: exclude seasonal variability to remain the long-term variability only (?)