[Hugo] [PM] You're a New User of the Month!



Congratulations, you've earned the New User of the Month award for January 2020.
This award is only granted to two new users per month, and it will be permanently visible on the badges page.
You've quickly become a valuable member of our community. Thanks for joining, and keep up the great work!
이달의 뉴비로 선정되었다.
이 뱃지는 한 달에 두 명을 선정해서 수여한다고 한다.
내가 그 두 명 중 한 명이다.
뱃지 수상자 명단은 웹페이지에 아래처럼 나와있다.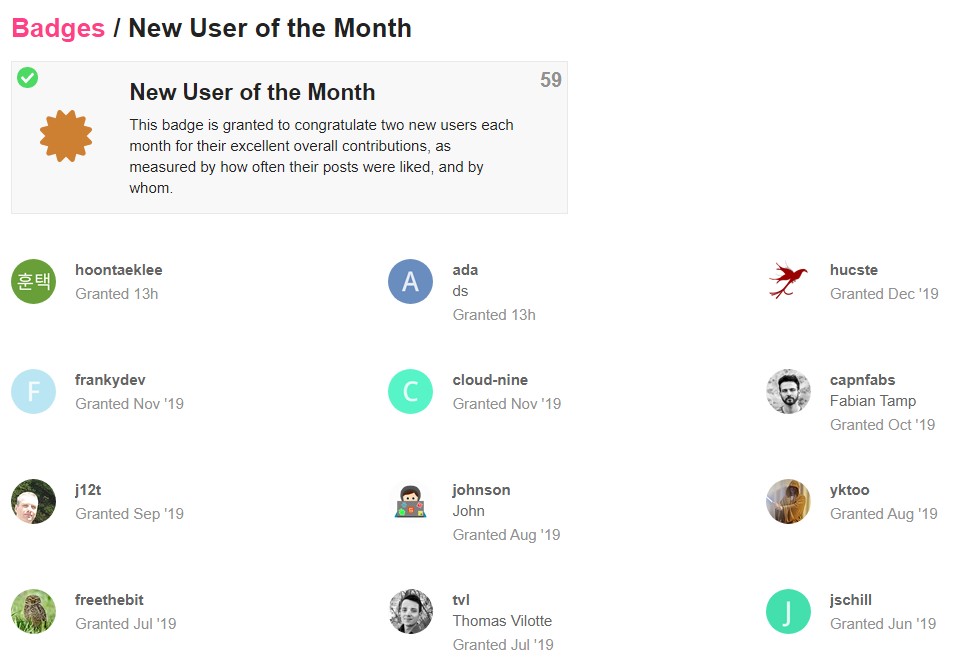 2020년 1월 8일에 선정됐으니 19년 12월 활동 내역을 기준으로 한 것 같다. 하지만 내가 Hugo 커뮤니티에 질문을 올린 건 크리스마스 이후부터다. 두어 개 질문이긴 한데, 서로 피드백을 여러 번 주고 받아서 대화가 길어졌다. 그 덕에 받은 건가. 혹은 Hugo에 뉴비가 별로 없는 것인가(어느 달에는 한 명만 받았다).
아무튼!

기분 좋은 일이다.
시간날 때 열심히 블로그 꾸미자.